It's the most wonderful time of year...or is it?
Christmas Eve is a night of mystery and magic, but not always in ways we expect. Things lurk in the shadows and they're not the least bit jolly or merry. Let's just say some presents are better left unopened.
'Tis the season to be screaming along with our thirteen tales of holiday horrors. Ghosts. Monsters. Demons. And more!
This Christmas, be careful what you wish for...
Book Trailer Code:
Author Bio – Jessica Bayliss:


Jessica Bayliss's love for reading goes all the way back to the 6th grade book bin, and it's never faded. She writes across genres and age groups, but Jessica's dearest dream is to dazzle the hearts of young readers.
Website ~ Facebook ~ Twitter
Rating: 5 Loved them all!
Cover comment: Strange (it had to be, of course)
Book source: I received a promotional copy
I stayed up late re-reading this anthology and even though I'm not a kid, these stories were really GOOD and VERY scary! Kudos to Leap Books for creating such a different topic for the holidays and compiling this group of compelling stories. There are thirteen stories all featuring a different (and in some cases, wholly unique) theme, character or tradition of the Christmas season. From Krampus to Big Foot, traditional carols to that old adage of being bad earns you a lump of coal, every entertaining story fully held its own.
I was impressed by each author's ability to set such diverse scary moods with such a short amount of words. There's even a steampunk story featuring a holiday helper which instantly became one of my favorites.
Since the stories are short I won't mention each one individually and share my thoughts (as i do with collections). I don't want to chance spoilers. If you really want to have some fun, read these out loud to your kids. My middle school-aged son certainly enjoyed these tales, though I'm not sure how well he slept that night. I know from reading these I will be searching snow covered mountains for hairy monsters, not going into the woods to lure out Jack Frost, cutting down trees, or buying strange wooden dolls. And if there are really bad smells somewhere, I'll hightail it out of there.
I must mention each author and thank them for their scary delights:
Richard Ankers, Jackie Horsfall, Boyd Reynolds, Lea Storry, Ally Mathews, Laura Pauling, Ty Drago, Jessica Bayliss, Judith Graves, Andrea Stanet, Patrick Hueller, Dax Varley and Madeia Sharif. Congratulations for being given the opportunity to scare kids (and their parents) during the holiday season. Thanks for the frightful chills and disturbing thrills. This holiday will not be ordinary thanks to this book. The Fright Before Christmas anthology screams out for families to begin a scary new tradition of re-reading this collection year after year. Go grab a copy. I already pre-ordered mine.
Giveaways
There's a blast-wide giveaway with two winners each receiving
one (1) copy of Fright and one (1) copy of Beware the Little White Rabbit. Enter below.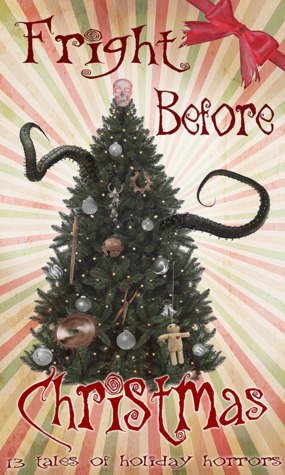 Enter Giveaway