We are still celebrating the release of Sweet by Tammara Webber and today share our review. Have a wonderful weekend.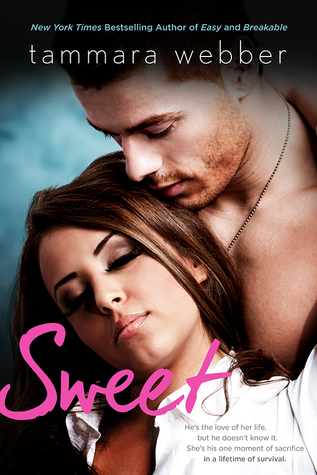 SWEET (Contours of the Heart #3) by Tammara Webber
Blurb:
He's the love of her life, but he doesn't know it.
She's his one moment of sacrifice in a lifetime of survival.
He was damaged and wild, but resilient.
She's always been obedient. Now she's restless.
Home for the summer between college and med school, Pearl Torres Frank knows two things: Boyce Wynn is the embodiment of everything she should run from, and everything she wants to run to. Rebellious and loud. Unconcerned with society's opinion of him. Passionate. Strong. Dangerous.
And one more trait he hides from everyone but her:
Sweet.
About the Author:
New York Times and USA Today bestselling author of EASY and BREAKABLE (Contours of the Heart series - NA), as well BETWEEN THE LINES, WHERE YOU ARE, GOOD FOR YOU and HERE WITHOUT YOU (Between the Lines series - YA/NA).
I'm a hopeful romantic who adores novels with happy endings, because there are enough sad endings in real life. Before writing full-time, I was an undergraduate academic advisor, economics tutor, planetarium office manager, radiology call center rep, and the palest person to ever work at a tanning salon. I married my high school sweetheart, and I'm Mom to three adult kids and four very immature cats.
website:
instagram.com/tammarawebber
Rating: 5 LOVED it!
Cover comment: Like it a lot.
Book source: I received a promotional copy in return for my honest review.
If you've followed our blog for awhile, you'll know how much of a Tammara Webber fangirl I am. There's something about the way she writes her characters, as though she's lived their lives first-hand, that speaks to me and gets under my skin. Even though I may have finished reading a book by this author, the power of memory and the lingering thoughts/feelings/experiences remain with me for quite some time. She's done it again with Sweet, the third book in the Contours of the Heart series.
Geez, after Jackie's story in Easy followed by Lucas' book, Breakable, I began reading Sweet wondering if the author could pull it off again. Could she hook me in and keep me there with my eyes glued to her words? Hell yes! What can I say about Pearl? After Jackie, she's become a fast favorite. I especially loved that she's a Latina with a strong hardworking mother. Even though her stepfather helped make an invisible girl suddenly quite visible in school, that doesn't identify who she really is. Narrated by both, I also loved Boyce. He's the across the tracks type of guy who truly knows and 'gets' the real Pearl and she sees the real man hidden behind the attitude, the brawn and the broken parts of him.
It's hard for young people who have to deal with a dominating parent, either one who wants their life to steer in one direction (and only one direction--theirs) or one who is abusive. Pearl's mother wants her to be a doctor and nothing else. Boyce's alcoholic dad was a physical and mental bully, which scarred his son. Both of these characters ultimately do what they feel needs to be done, including who they want to love.
Just when I thought Sweet was going to be a pretty simple forward contemporary New Adult romance, the author tossed in this awesome backstory about Pearl and Boyce meeting as kids and one important moment which cemented their lasting friendship. That was incredibly sweet and made my heart swell while reading. Pearl and Boyce don't have a common relationship, their past has linked them together forever and this book is their love story. There are layers to get through, situations to watch unfold, and they had me fully engrossed in every second. From their walks by the bay to every shy gaze and fierce kiss, these two were meant for each other. What a couple to watch fall in love. By the end I was a huge romantic smiling mess with a tremendous case of the 'feelies'.
Sweet is another gift to romance readers from an author who understands what love stories should be about. Not just the chemistry and sex, but the emotions, the feelings, the heart and realistic drama (not drama's misguided cousin, melodrama) to back everything up. Ms. Webber has done it again. This fangirl is completely satisfied!